Welcome to fellowship training program
in Pulmonary Rehabilitation Center of Gangnam Severance Hospital, Yonsei University, Seoul, Korea
Institute : Gangnam Severance Hospital, Yonsei University College of Medicine
Department : Rehabilitation Medicine
Address : 211 Eonju-ro, Gangnam-gu, Seoul, 06273, Korea
Homepage : http://www.breatheasyclub.com
Professor in charge : Seong-Woong Kang, MD. PhD.
E-mail : KSWOONG@yuhs.ac
We are delighted to extend an invitation to you for our esteemed international fellowship training program on pulmonary rehabilitation. Since 2010, our center has been hosting this program, providing valuable clinical experience to doctors from around the world. With the generous financial support, we have successfully trained six doctors per year. To date, we have welcomed 36 trainees from 15 different countries (see below), fostering a global exchange of knowledge and expertise in pulmonary rehabilitation and rehabilitation for patients with neuromuscular diseases.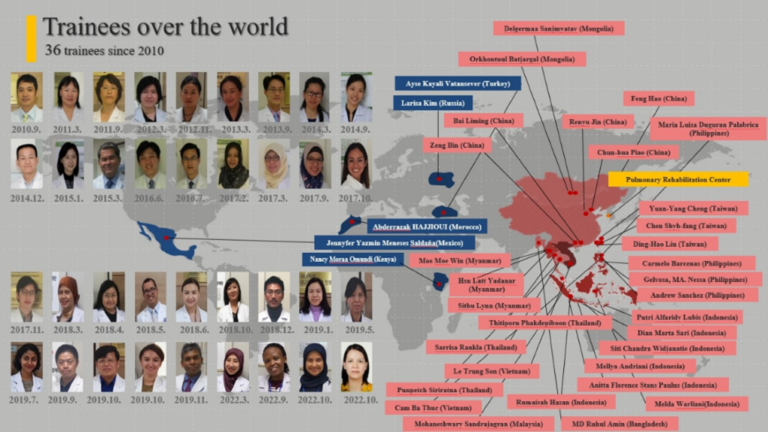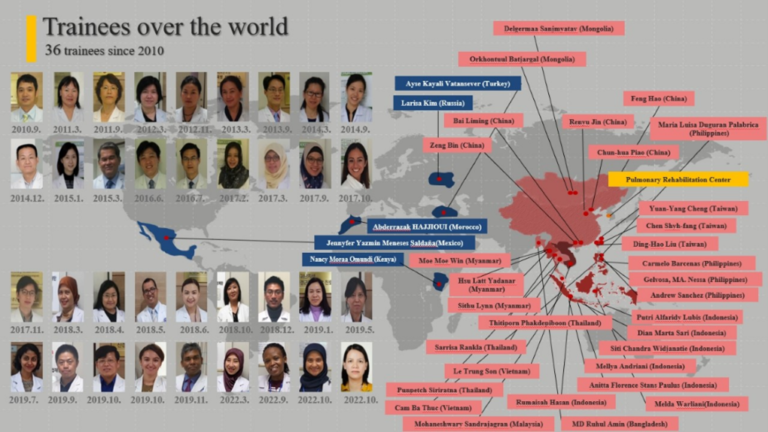 The fellowship training program will primarily focus on learning a wide range of techniques for updated respiratory care in different patient groups, including those with pneumonia, neuromuscular diseases, COPD, spinal cord injury, and more. In addition, invited doctors will have the opportunity to observe the treatment sequences of in-patients and gain valuable insights. Furthermore, you will have the chance to observe our out-patient clinic and learn about the long-term follow-up management of patients with restrictive thoracic diseases such as neuromuscular diseases, spinal cord injury, kyphoscoliosis, and others.
The educational program's content is based on the principles and knowledge found in pulmonary rehabilitation textbooks. We cover nearly all the procedures listed in these textbooks, allowing visiting doctors to experience each procedure firsthand and ask relevant questions. The major interventions employed in pulmonary rehabilitation include the following:
     Ⅰ. Proper Patient Evaluation
     Ⅱ. Therapeutic Interventions
          1. Breathing retraining exercise
          2. Airway secretion elimintation methods
          3. Inspiratory muscle resistive exercises
          4. Reconditioning exercises
          5. Ventilator care
          6. Non-invasive methods for ventilation
          7. Rehabilitation for the patients with neuromuscular diseases
Our training program has been recognized as an excellent program by the ISPRM (International Society of Physical and Rehabilitation Medicine) and we are thrilled to offer this opportunity to more people who are eager to participate. To support your participation, we are pleased to offer partial financial support, which includes accommodation and meals for the duration of your one-month stay in Korea. We believe this will provide you with a comfortable and conducive environment to fully engage in the training program.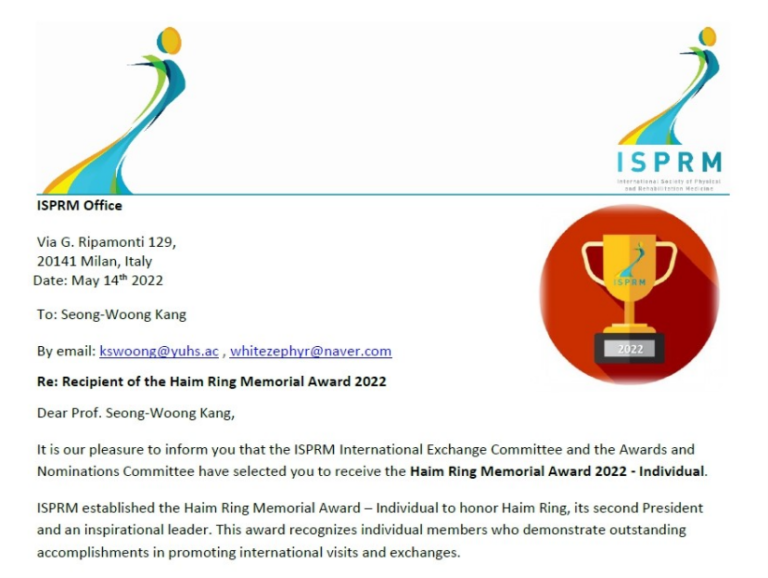 Please note that all trainees have already been confirmed until mid-2024, and new trainees will be assigned from mid-2024 onwards. If you have any questions or require further information about the program, please do not hesitate to contact us at the email address provided below.